Empty enclosure for oil filled electric radiators, with single tube heating element and electronic temperature control, IP22
Dimensions: 200x77x50 (excluding knob and bracket)
Setting: One or two knobs, one pilot light
IP Rating: IP22 (vertical mounting only)
Weight: 195 gr.
Color: RAL1010
Material: PC-ABS
Ventilation: Electronic area is ventilated by louver style air inlet of 7 mm, for triac output temperature control
| | |
| --- | --- |
| Weight | 195 kg |
| Dimensions | 200 × 77 × 50 mm |
| Ingress protection | |
| Color | |
| Housing raw material | |
| Setting adjustment | |
Description
These boxes are mounted on the outer threaded ½ " single tube heating elements in oil filled radiators. They are designed to accommodate existing electronic cards from manufacturers such as Cotherm, Delta Dore etc …
Their IP protection class allows them to be mounted in most domestic applications.
They are designed to respond to a class II insulation: creepage distances and clearances between the metal parts or live parts are greater than or equal to 8mm (Indicative values, which may vary according to internal electronic circuits)
The minimum plastic wall thickness is 1.6 mm.
They can be supplied with mains cable with pull out force greater than 10 daN.
The development of these boxes is on customer specifications.
Contact us for reference and suppliers of compatible electronic circuit board.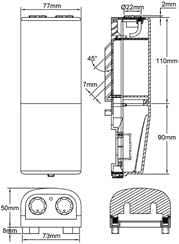 Dimensions: 200x77x50 (excluding knob and bracket)
Setting: One or two knobs, one pilot light
IP Rating: IP22 (vertical mounting only)
Weight: 195 gr.
Color: RAL1010
Material: PC-ABS
Ventilation: Electronic area is ventilated by louver style air inlet of 7 mm, for triac output temperature control
Technical specifications sheet
LOGIN/REGISTER
. DATASHEET, DRAWINGS (.DWG), 3D MODELS (.STP) AND OTHER DOCUMENTS ARE AVAILABLE.