Snap action bimetal disc thermostat, ½" disc. 12 mm thickness, 16A 250V Type 4903
Snap action bimetal disc thermostat, ½" disc. 12 mm thickness
| | |
| --- | --- |
| Weight | 0.3 kg |
| Dimensions | 20 × 20 × 20 mm |
| Electrical rating | |
| Bracket material | |
SKU:

N/A
Category: Disc thermostats
Tags: Standard EN 60730-1, Aerothermal, fixed setting, Bimetal, Automotive, surface temperature control, Room bimetal, Boilers, pipe surface temperature control, Surface bimetal, Disc, Heat pumps, waterproof enclosure, Sensors for boilers, Disc thermostat, Industrial components, Anti-freeze, Bimetal switch, Electromechanical, Railway industry, disc thermostat for mounting on heating cable, Bimetal disc, Klixon, Water heater, European Directive 20220/95/CE (Rohs), Thermostat for incorparation, overmold disc thermostat, European Directive REACH, frost protection, snap action, Heat tracing, vibration resistant, temperature control, On/Off action, thermostat under threaded bolt, Antifreeze thermostat
TECHNICAL FEATURES
Case: Phenolic resin (ceramic on request)
Sensing element: Bimetal disc
Calibration: Factory fixed setting, from 15°C to 150°C, 5 to 302°F F (200°C, 392°F with ceramic body).    Not  adjustable.
Standard  calibration  tolerances  ±4°C  to ±6°C, ±39.2°F à 42.8°F upon models
Terminals: 6.3 or 4.8 quick connect , or welding terminals
Differential: Factory set, from 10°C to 25°C, 50°F to 77°F
Mounting: with or without bracket
Main Bracket models:
•  Loose bracket, two oval holes 3.2 x 3.5,  for M3 screws,  24.5 mm distance
• Flat fixed bracket, two oval holes 3.2 x 3.5, for M3 screws, 24.5 mm distance
• Flat cup bracket, two oval holes 3.2 x 4.2, for M3 screws, 24 mm distance
• M4 or M5 center stud on request
Cap materials: stainless steel (SS) or aluminum (AL)
Ratings:
CSA: AC 125V/15A, AC250V/8A
VDE: AC 250V/16A
UL: AC120V/15A, AC240V/10A
Main bracket types

Main terminal types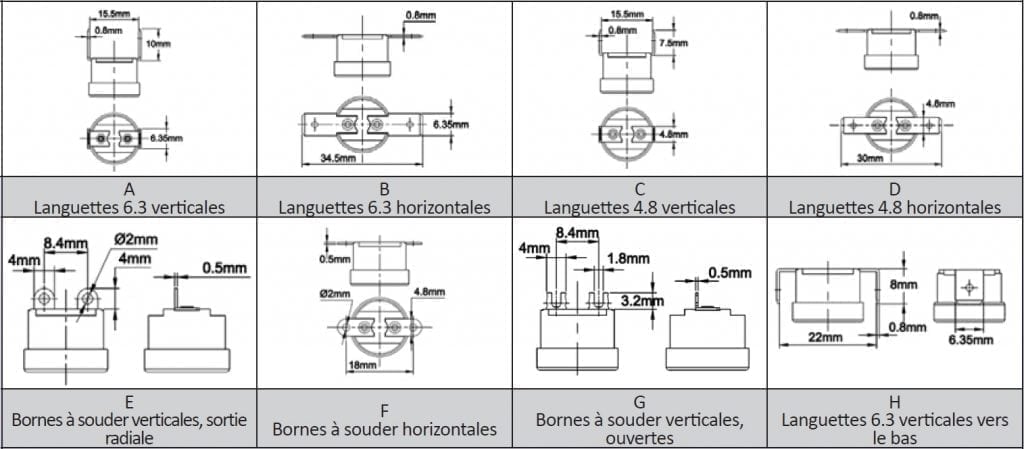 Angle between terminals and bracket

MAIN REFERENCES (usually available from stock
*

)

 

These thermostats can be fitted inside various housings, overmolded and wired*. Some examples:
Dia 18 mm tubular pocket

Waterproof
tube mounting

Waterproof, with electrical contact protection

Waterproof, with M6 thread

Waterproof, ½" fitting

Waterproof,
M20 fitting

Waterproof, Cnomo connector

Waterproof, automotive connector

Pipe mounting with connection box

Cable output, with flexible boot
*These assemblies are made in the UL certified wiring harnesses production line of JPC
Downloads
Technical specifications sheet
Technical informations associated to this product
The proper functioning of a thermostat depends primarily on the correct choice of the component, but also the conditions of its installation. Conditions used to calibrate regulating and control equipment in the factory are always ideal laboratory conditions, ensuring measurement accuracy and repeatability. These conditions are rarely those found in practice when installing thermostats. However, with a minimum of constraints, it is possible to optimize assemblies.