Bottom mounting, micro switch contact, EPS foam float, Appliances flooding detection
Main applications: overflow, leaks or flooding detection on electrical appliances, washing machines, electrical equipment and cabinets protection
| | |
| --- | --- |
| Float material | |
| Mounting position | |
| Contact style | |
| Electrical rating | |
| Voltage | |
| Contact resistance (mOhms) | |
| Electrical connection type | |
| Max operating temperature (°C) | |
| Min operating temperature (°C) | |
| Maximum pressure | |
Description
Use: 250 VAC circuits
Main applications: overflow, leaks or flooding detection on electrical appliances, washing machines, electrical equipment and cabinets protection
Float material: EPS foam
Frame material: stainless steel
Mounting: Mounting on the bottom side of the device. Detection will occur when the liquid level is greater than 8 mm. It is therefore necessary that this bottom is shaped in a bowl form admitting at least 8mm of water level before the water can flow out.The micro-switch must be protected against falling water and must stay away from water level Contact configuration: SPDT snap action micro-switch Rating: 1/4HP, 6(1) A 240V ( UL, CSA VDE switch)
Contact resistance: 50mOhms maxi
Electrical connection: three 6.35 x 0.8 mm quick connect terminals (to be incorporated inside appropriate ingress protected equipment)
Liquid limits: to be used with clean liquids chemically compatible with polystyrene and stainless steel, specific gravity higher than 0.9, dynamic viscosity higher than 0.5×10-4 Pa.s and lower than 10-2 Pa.s.
Ambient temperature: 0+65°C
Maximum pressure:  atmospheric
Dimensions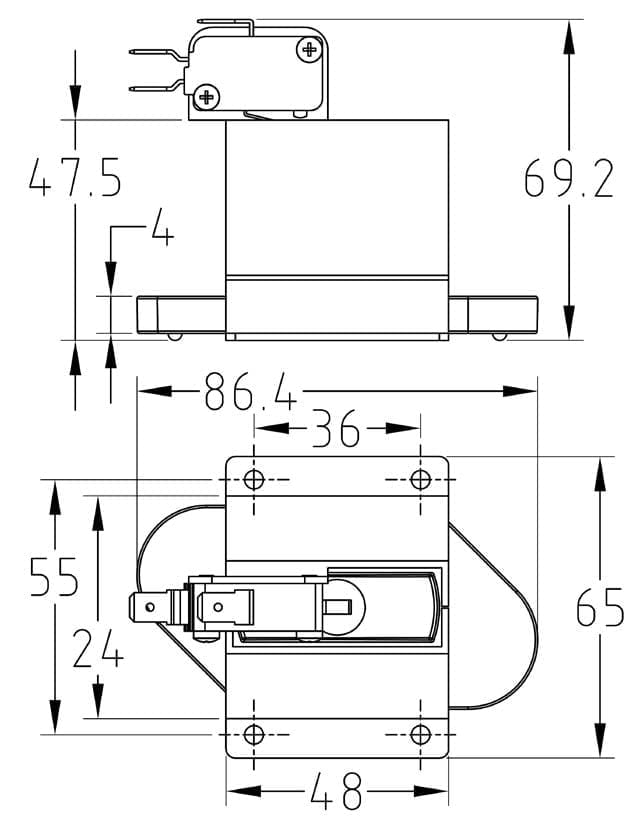 We regularly, under non disclosure agreement, study and product components that meet the specifications of manufacturers of electrical equipment. If agreed contractually at the origin, the products are reserved for use only by the customer.Our foam floats are made in our factory using our own patented technology and are without equivalent.
Technical specifications sheet
LOGIN/REGISTER
. DATASHEET, DRAWINGS (.DWG), 3D MODELS (.STP) AND OTHER DOCUMENTS ARE AVAILABLE.